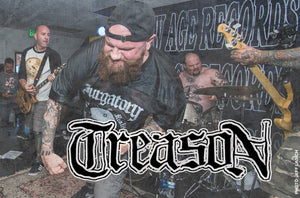 Treason to play Eville Fest May 19th. 2019
Treason will play this weekend's Eville Fest happening in Evansville IN.

The Line up and details are as follows:
Saturday May 18th
Blood Tribe
Farrington
Dying Giant
Plasticizer
Tighspace
Creep Diet
$6
Doors 6pm, music 7pm

Sunday, May 19th
Bent Life
Death Card
Treason
Sausage Slam
Hard Truth
Overstep
Damballa
Gator Breath
$10
doors 5pm music 6pm

It all goes down at Wired Venue 111 NW 4th. St. in Evansville. For more info Click here.



---