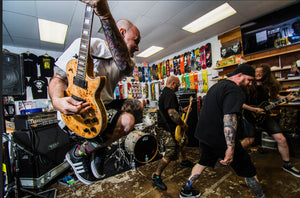 Treason: Catching up with and plans for 2019 with Rich Thurston
Treason
recently returned from their first west coast shows. Here's a quick little Q and A to bring us all up to speed.
What's been going on? How was the trip to CA for NA30?
Rich: We've been busy writing and recording 4 new songs for our upcoming EP. Playing a few regional shows. California was great. It was nice seeing all the bands from the label hanging and meeting each other for the first time.
You just got new drummer, what's up with that dude?
Rich: Yeah our original drummer started going back to school and he was in another band before Treason. Just made sense to get someone else. Dylan has fit in nicely. We haven't missed a beat.
Hows the writing/recording going for the new EP?
Rich: Well like I stated early we have been writing and recording since California. We have almost all of it recorded. Should all be done in the next couple weeks. Pretty excited about it.
What's the plan for 2019? Tours? Europe/US?
Rich: We have some shows set up December through March. Mostly weekends and one offs. We just cant go on a proper "tour" given our jobs and advanced age haha.
Are their any influences you have in your writing process that people might not expect?
Rich: I listen to a lot of different kinds of music all the time and I think that comes through in the music. Our newer songs have more of a thrashy tone to them. Apparently I have been listening to a lot of Obituary and Deicide haha.
Anything you'd like to add?
Rich:  I love hardcore.
Read more about Treason
here
Photo credit: Jeff Lasich
---