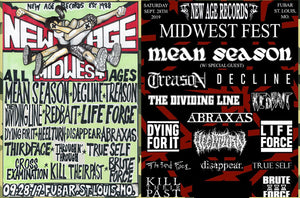 New Age Midwest Show Details Announced
The New Age Midwest Show announced for September 28th in St Louis MO (and with a pre show Sept. 27th) has really come together incredibly!

Friday September 27th.
Paddington
Gangstalker
Big Laugh
Prevention
Bastard Squad
Placeholder

At the Records Space . 6PM . Suggested donation for touring bands. Check the Facebook event page here.


Saturday September 28th.

Mean Season
Treason
Decline
Life Force
The Dividing Line
Redbait
Abraxas
Dying for It
Heel Turn
Thirdface
Disappear.
True Self
Through n' Through
Cross Examination
Kill Their Past
Brute Force

At Fubar 2PM . 3108 Locust Drive . St Louis MO .  Tickets are $18 in advance $20 at the door and can be purchased here. Check the Facebook event page here.


---