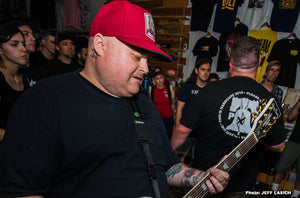 Help Ian get back on his feet.
Ian is by far one of the best we have ever known and is getting ready to have surgery regarding an issue he is having with his foot. A fundraiser has been launched to help a genuine & fantastic friend of ours.
(posted by the fundraiser)
Over the past 3+ years Ian has been dealing with medical issues regarding his foot. Alas, on April 15th he will be getting surgery to hopefully fix the issue but will be out of work, due to not being able to walk on that foot, for roughly 2-3 months. Luckily Ian has insurance which will cover the majority of the surgery and hospital stay but he will still have a decent copay. Ian is a tattooer and guitar player in both Sunstroke and The Dividing Line so I am hoping that we can raise enough money to not only cover his copay but also cover the majority of money he's losing by not working for 3 months. I know things are tough right now but every little bit can help. I will make sure to post updates regarding the surgery and recovery. Please, if nothing else, put good vibes into the universe for him... thank you so much! -Michelle
You can donate if you feel
here
.
---