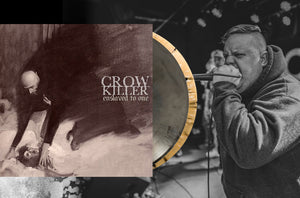 Crow Killer "Enslaved to One" Pre-Orders Up!
Crow Killer's debut LP "Enslaved to One" is up for pre-order in our webstore!
Click here for happiness:
The '77 Pressings always go fast so don't sleep on it.
Pressing Info/Quantity:
Root beer splatter: 300
Spooky grey: 200
77 Pressing/Spooky grey with green label: 77 (limit 1 per order)
Test Pressing: 30 (Only 15 available, limit 1 per person)



Remember, pre orders ship after product arrives to us.
If ordering multiple different orders, items will be held until pre-order items are ready to ship. Make 2 different orders if you don't want to wait everything to be held up due to the pre-order. Thank you so much for your support.


---